Teams from all over the world were celebrating world titles and Olympic quotas after a disrupted day of racing at the ICF Canoe Sprint World Championships in Duisburg on Friday.
Among those celebrating were the New Zealand women's K4 team, after securing their first ever world title, and the German men's K4 team, who retook their world crown after being beaten into second last year.
Cuba's Yarisleidis Cirilo Duboys had a double celebration, becoming the women's C1 200 world champion for the first time, and also gaining her country a quota for next year's Olympic Games.
"For me this is amazing," Duboys said.
"I'm going for more in Paris, it's my dream because I've trained so hard for this competition."
A total of 25 Paris Olympic quotas were earned on Friday – 10 each in the men's and women's K4 500, and five in the women's C1 200. Joining Cuba in Paris next year in women's C1 will be Spain, China, USA and Chile.
In the women's K4 the ten teams off to the Olympics look set to be New Zealand, Poland, Spain, China, Australia, Serbia, Hungary, Germany, Norway and Canada.
New Zealand's five-time Olympic champion, Lisa Carrington, said her country had waited a long time to become world champions.
"Over the many years we as a K4 have learned so much, and I think we've been able to work really hard over the last year to figure out what we need to do to get across the line first," she said.
"I think it just took a lot of belief, breaking mental models, and trying to figure out how we as a four can go as fast as we can. We managed to do our best today, and that was good enough."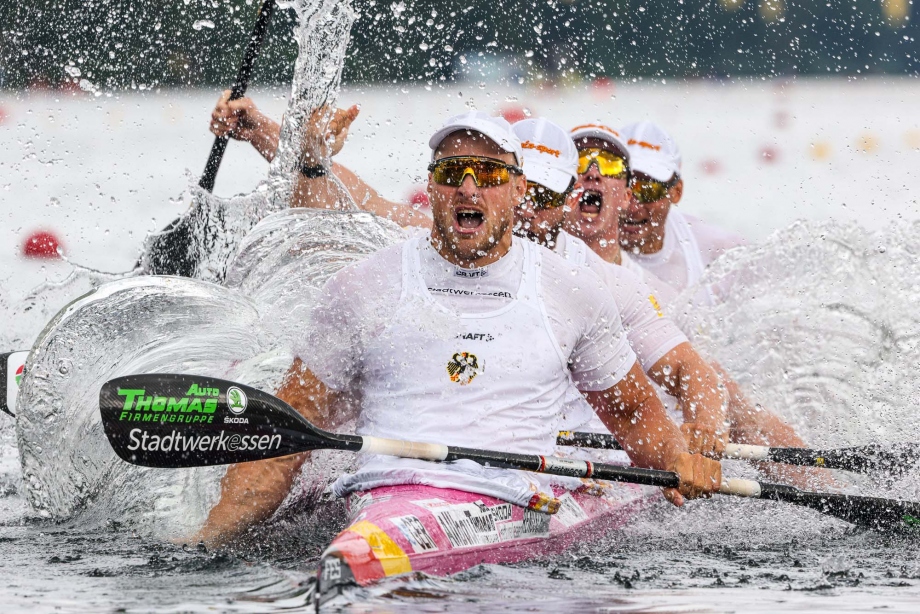 In the men's Germany, Hungary, Ukraine, Australia, Denmark, Lithuania, Spain, Serbia, Canada and China finished as the top ten nations from four continents.
Germany's Max Lemke said after a poor result at the European titles they had to find improvements.
"After the European Games we sat together as a team, we talked to the coach, everyone made some points for themselves to get better as an individual, then we got into the boat and changed some things, and everything worked out really well," he said.
In non-Olympic results on Friday, Romania's Catalin Chirila warmed up for his defence of the men's C1 1000 crown with victory in the men's C1 500, while reigning Olympic K1 1000 champion, Balint Kopasz, took his first K1 500 crown.
Uzbekistan's Artur Guliev won the men's C1 200, Poland's Martyna Klatt and Helena Wisniewska the women's K2 200, and China's Changwen Shuai and Wenjun Lin took the world title in the women's C2 200.
Pics by Bence Vekassy