Five countries picked up quotas for Paris, New Zealand's Lisa Carrington won her 15th world title and Canada's Katie Vincent won three gold medals on the final day of the ICF Sprint and Paracanoe World Championships in Duisburg, Germany, on Sunday.
There were three Olympic class events contested in canoe sprint, with Portugal's Joao Ribeiro and Messias Baptista breaking through for an emotional world title in the men's K2 500. Baptista said it was tough for both of them on and off the water in the lead up to Sunday's final.
"In all our competitions we were always close to a medal, or to winning, and today it all makes sense, we are the world champions, we are the best in the world, we have the quota for Paris, and now it's time to race and hope for the best next year," Baptista said.
"We can see now in the final, from the first to the last there is just one second difference, so there can be no mistakes.
"We both have our personal problems, Joao's daughter is at the hospital, and I can say for him that this medal is for her and for her families."
Hungary's defending world champions, Bence Nadas and Balint Kopasz, finished second, and Spain's Adrian Del Rio and Rodrigo Germade took the bronze.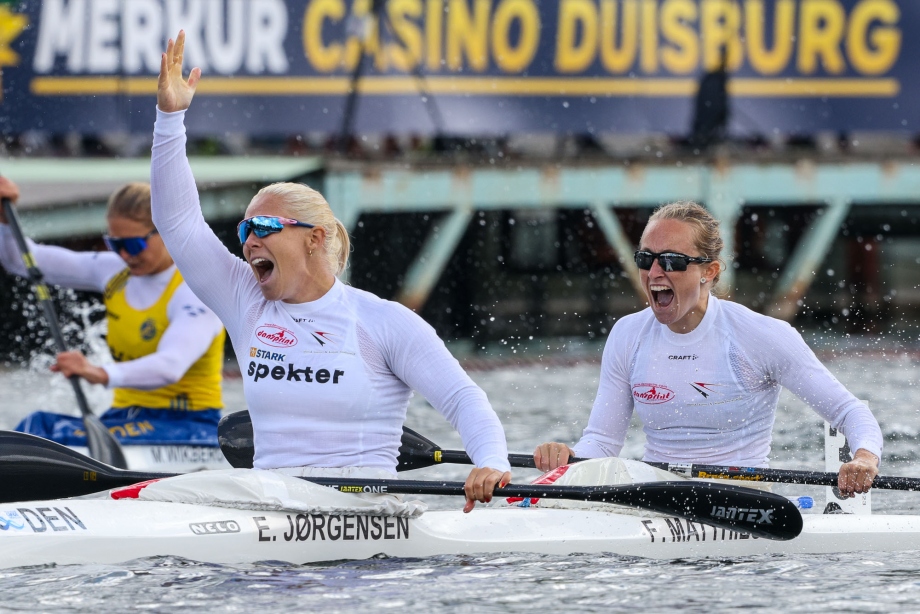 Denmark's Emma Jorgensen and Frederikke Matthiesen took the women's K2 500 crown, after only coming together as a crew in February.
"It is crazy, to say we have started from the bottom, and now we are here, it's just amazing," Jorgensen said.
"To think we only started working together in February, it's crazy thinking we are just working our way up and we have shown the world that we are here to win, we want to win, and we showed the world today that we are the world champions."
Poland's Martyna Klatt and Helena Wisniewska took the silver, and Germany's Paulina Paszek and Jule Hake the bronze.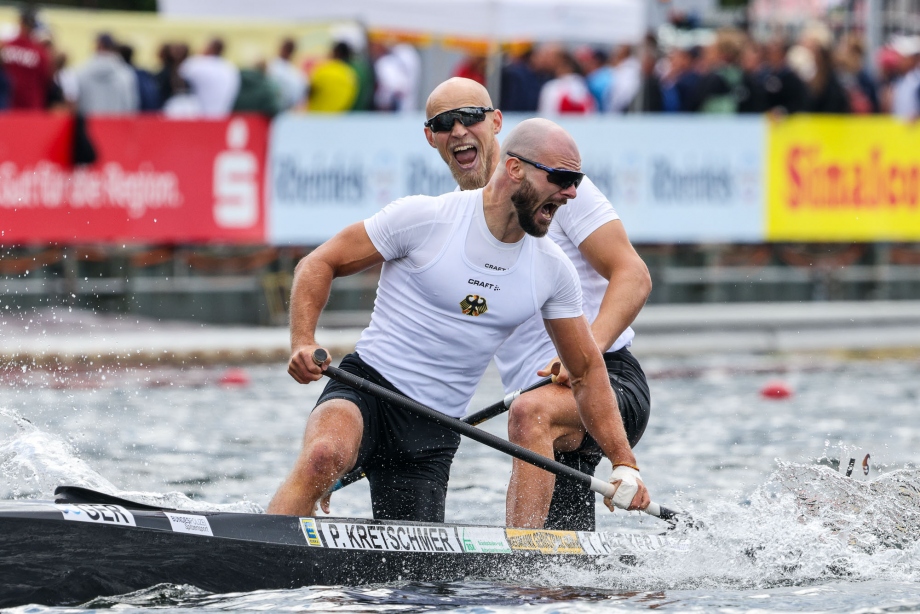 The most popular win of the day came from Germany's Peter Kretschmer and Tim Hecker, sending the home fans into raptures with victory in the men's C2 500. Kretschmer, who won C2 Olympic gold for Germany in London in 2012, said it was a special thrill to also earn a quota for Paris.
"I was in Duisburg in 2013 and we won the C4, that was amazing, and this year it is totally different race, totally different experience, it's just awesome," Kretschmer said.
"We both have this Olympic dream, and we will focus on next year after tomorrow."
China's Hao Liu and Bowen Ji took silver, and Spain's Cayetano Garcia and Pablo Martinez the bronze.
In paracanoe racing, Great Britain's Laura Sugar defended her KL3 crown and also earned a quota for next year's Paralympic Games.
"I had a tough start to the year, with a couple of injuries," Sugar said.
"But since Szeged it's all been clicking, and I've been doing some fast times in Nottingham, but you never know what the rest of the world is going to turn up and do."
In a repeat of the results from Tokyo and last year's world championships, France's Nelia Barbosa took silver and Germany's Felicia Laberer the bronze.
Ukraine's Maryna Mazhula spoke earlier in the week how she was training in a city where bombs were regularly falling, but on Sunday she put that behind her to win her fifth KL1 world title.
"Maybe this proves to me that I am young, and strong," Mazhula said.
"Every victory for Ukraine is important. I really like hearing the Ukrainian anthem, it is so special."
Chile's Katherinne Wollermann finished second, and Canada's Brianna Hennessy third.
Ukrainian teammate Vladyslav Yepifanov took gold in a hotly contested men's VL3 final, overcoming Great Britain's reigning world champion, Jack Eyers, and Australia's Paralympic champion, Curtis McGrath.
"This is my first time I became a world champion and it is a great feeling, I still don't understand that I have won this," Yepifanov said.
"I'm fighting against these athletes all my life, so it is a big big step to beat them finally. I'm so happy to have a Paris quota, but there is still a lot of work to do."
In non-Olympic events, New Zealand's Lisa Carrington continued an unbeaten run in the women's K1 200 that stretches back to 2011, while Canada's Katie Vincent picked up three gold – in the women's K1 500, alongside Connor Fitzpatrick in the mixed C2 500, and in the women's C1 5000.
Pics by Bence Vekassy and Thomas Lohnes